The Women At Point Sur (1927): A Piece of the Carmel Literary Colony
---
As a friend of the Friends of the San Francisco Public Library (a mouthful, I know), I was recently granted first access to their AMAZING annual book sale. Just imagine the scene I found upon entering a huge warehouse at Fort Mason in San Francisco: rows and rows of tables holding old books, older books—books in every size, color, and affinity organized by topic, laid out on tabletops and in jumbled boxes stacked underneath said tabletops. Hardcovers $3, Paperbacks $1. My bookish companion and I quickly grabbed a shopping cart and got down to business.
We sifted, we sorted, we soon realized we were in over our heads. As my stack of must-haves grew, I began to notice my selections were based as much on aesthetics as they were on content, and most of them included a personalized bookplate or inscription on the front page. I love a good book, but nothing gets this archivist-historian like traceable provenance. As I mulled over this perversion when I got home and rifled through my haul, a serialized component to Nostos Algos was born: The Secret Lives of Books.
Think about how much you love certain books, and how loved books become a part of your development. Reading is an intensely personal pursuit, and book ownership is a way to display our journeys as readers; hence why #shelfie is such a popular exercise in social media-ing. My love of history stems from my love of human beings, both famous and still unfound, because everyone has a story to tell. By finding its provenance, a book becomes that much more special to me as I can visualize the hands that once held its spine, the bookshelf on which it once reserved a space, and the lives it must have touched. Inevitably, I always wonder about the sad circumstances in which it was tossed into my home. Forgotten, discarded, no longer a treasured piece of someone's literary pie. But that's just my melancholy run amok, and I promise this won't be a series of sad stories!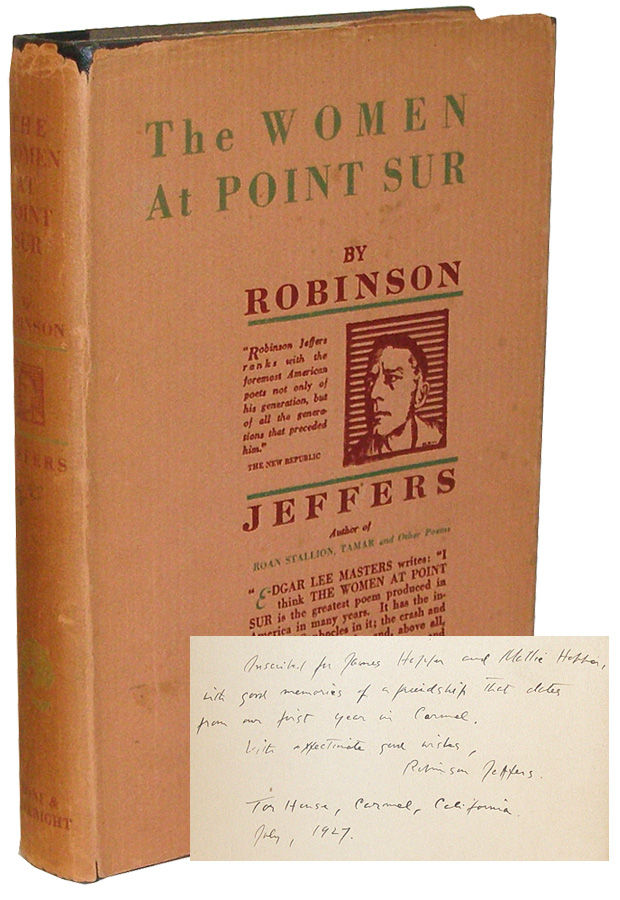 As the inaugural post in this series, I'm delving into this copy of The Women At Point Sur that I found for sale on the website viaLibri while conducting research for another project. This book was given by its author, Robinson Jeffers, to his good friends Mattie and James Hopper shortly after its publication in 1927; the front page reads: "Inscribed for James Hopper and Mattie Hopper, / with some memories of friendship that dates / from our first year in Carmel. / With affectionate good wishes, / Robinson Jeffers. / Tor House, Carmel, California / July, 1927." I stumbled across this book while researching Mattie's father, Joseph A. Leonard—a noted architect and real estate developer in San Francisco and Alameda from the 1890s through the 1920s. Leonard had quite the life, but he was trumped by his daughter when she married the one-of-a-kind James Marie Hopper in 1901.
James Marie Hopper would have been hard-pressed to write a character more dashing than James Marie Hopper. Better known as Jimmy, Hopper was a British subject born in Paris, France and raised in Oakland, California. He attended U.C. Berkeley, where he was a star quarterback on the 1898 football team and marginally less well-known as "the writer of a somewhat violent editorial" at the college newspaper. He passed the California State Bar after graduation, but would never set foot inside a courtroom as a lawyer; instead, he became a reporter for the San Francisco Chronicle.
He married Mattie at the Leonard family home on Ellis Street. The couple then sojourned to the Philippines, where they opened schools and worked as teachers, and Jimmy used this experience as material to write his first book, Caybigan. After two years, the Hoppers returned to San Francisco where Jimmy settled into life as a beat writer for the San Francisco Call who also penned exposés for S.S. McClure's popular muckraking publications; before long, he was a boisterous fixture of the Bohemian set. When the City was devastated by the 1906 earthquake and fire, Hopper wrote "Restless Horses"—a beloved piece of contemporary earthquake coverage that ran in multiple publications and earned him enough money to thereafter focus his energy on writing fiction. But the earthquake also compelled the Hoppers to jump ship, and they left their city in ruins for the tranquility of Monterey.
They chose to live in an area known as The Village "where a little group of artists and writers…built their shacks among the pine woods, there to practice la vie de Bohème." The recognized founder of this literary colony was George Sterling, a handsome and athletic Piedmont poet who settled in The Village in 1905 with his wife, Carrie, because she wanted to get her husband away from the hard-partying Bohemians in the City (ahem, Jack London). They were soon joined by playwright Mary Austin and her neighbors, the Hoppers, who welcomed a never-ending parade of artists such as Sinclair Upton, a young Sinclair Lewis, and Jack London.
Everyone lived in cottages that varied in size and shape, but most were built by hand and all had large living rooms with prominent fireplaces—perfect for late night conversation. Residents of The Village were young, hip, artistic, and loved the outdoors almost as much as they loved parties. Mary Austin described the pace of life: "The dunes glistened white with violet shadows, and in warm hollows, between live oaks, the wine of light had mellowed undisturbed a thousand years." Artists worked in the morning and spent their afternoons communing with nature and one another, drinking tea beside driftwood fires, roasting mussels by moonlight, and always talking "ambrosial, unquotable talk." This was a place where "there was beauty and strangeness," a place filled with people dedicated to Art and Life and Work—seemingly in that order. This was a place and a community I would give my left arm to visit today.
Unfortunately, this idyllic community proved not to be sugar and spice and everything nice. George Sterling opted to leave Carmel after his wife and fellow bohemian Nora May French both took poison and died in 1914 (as would Sterling in 1926), and the Hopper's moved into the Sterling cottage. Around the same time, Robinson Jeffers and his wife, Una, first laid eyes on the site that would later become their home.
Jeffers was the son of a strict Presbyterian minister and biblical scholar who received his early education in Germany, Switzerland, and Pennsylvania. His father moved the family to Long Beach, California in 1903, and Jeffers enrolled in what was then the Presbyterian Occidental College before attending USC. Out from under his father's repressively religious hand for the first time, Jeffers hit the bottle hard and fraternized with many young ladies as he fell into the haze of love. Until he met a married graduate student named Una Call Kuster in 1906, and the two began an affair which was eventually discovered (as are all torrid affairs) and made public by her attorney husband in 1912. Not surprisingly, the Kusters divorced in 1913, and Una married Robinson one day later. They intended to lay low in England, but decided on Carmel due to the outbreak of war in Europe.
Hopper began working as a war correspondent overseas with World War I gaining momentum in Europe; as always, Mattie was by his side and the couple lived in France—leaving their children with Mattie's parents in San Francisco. When the war ended, the Hoppers returned to find their seaside Eden had been formally incorporated as Carmel-by-the Sea. At the same time, the Jeffers' broke ground on an epic masonry home that came to be known as Tor House. In this, the home that was partially built with his own hands, Robinson would raise a family and craft most of his work while Una acted as gatekeeper, answering mail and dealing with other mundane details in their life.
Judging by our book's inscription, the Jeffers' and the Hoppers developed a friendship around 1919, although it's hard to imagine how Robinson Jeffers and Jimmy Hopper became bosom buddies. Hopper was practically a golden god who wrote sweeping descriptions of the Carmel landscape like a romanticized Steinbeck, and his wife threw one hell of a party. As construction of Tor House was nearing completion in March of 1919, the Hoppers were hosting a "Gypsy supper dance" at their home. Mattie transformed her living room by covering the floor with straw, layering the floor and walls with blankets, and lighting the entire room with colored lanterns to turn the space into a Gypsy camp. Guests wore costumes and were entertained by a live orchestra while eating sweet and savory goodies the local paper deemed too good to detail. As a local townsman, Tal Josselyn, observed: "Yer got to hand it to the Hoppers when it comes to givin' sweet doin's."
By contrast, Jeffers was a solitary animal living "largely within himself," and much of his work dealt with unsavory subjects such as rape, incest, and other topics that explored "human introversion." Una Jeffers, on the other hand, was often described as gregarious so perhaps it wasn't the men who first became fast friends, but rather the women. Regardless of how the friendship started, it became a real and lasting one throughout the 1920s when Robinson presented James and Mattie with his newest literary achievement–the story of a minister driven mad by his conflicting desires. Not exactly the cheeriest gift in the world, but a thoughtful writer-to-writer gift nonetheless.
Knowing what we now do about the people behind the inscription, we can only imagine what this edition of The Women At Point Sur has seen. I envision the book gifted beside a warm stone hearth as the two couples enjoyed a jug of wine and a plate of oysters. I see it then finding a home beside other treasured volumes on a rustic shelf beside that same hearth. I imagine it endured untold plumes of cigarette smoke as discussions drifted late into the night. It saw children grow up, parties turn sour, arguments, laughter, and life in all its ugly beauty.
Sadly, the 1930s proved unkind to the Hoppers and Jeffers'. Robinson's work began to dip in esteem, and the patriotism of this obtuse writer was questioned at a time when America turned paranoid as it tumbled towards World War II. The Hoppers were injured in a bus accident that may have contributed to a tragically early death for Mattie in 1935. Hopper remarried a year later, and the fate of this book–how it ended up for sale by strangers to strangers–is ultimately unknown. After his death in 1956, Jimmy Hopper was remembered by his old friend Robinson Jeffers as "the man who used to stand and talk at his garden sea gate, who loved the cold ocean and used to swim from Carmel Point to Point Lobos" so often that a rock off Carmel Beach was named in his honor.
The secret life of this book is one I envy: given by, owned by, and loved by writers in artful seclusion. Whatever the reason the Hopper children decided to let this volume go, it lived a good life under the Hopper roof. Hopefully it's second life is also one to envy.